There's No Job Like a Camp Job!
Camp Director
Alyse Reichardt
Camp Registrar
Joanna Ingram
Camp Staff
Staff and Volunteer applications for Summer 2020 and March Break 2020 will be accepted starting December 6th.
This summer, we will be looking for:
Program Director
Section Directors
Specialty Program Staff*
Camp Counsellors
(Turning 17 by Dec 31, 2020) (Full Summer or One Month)
Assistant Camp Counsellors
(Turning 15 by Dec 31, 2020. One month – July only or August only)
Volunteers
(currently in Grade 8 and up – minimum 2 week commitment)

*Arts and Crafts, Athletics, Science, Music & Drama, Cooking

Want to know what working for us will be like? See our the job descriptions above.

Staff Behaviour Management Policy
Hiring Process Tips
Here's a collection of articles, blog posts and tips for success during the application process:
Our Staff
Our enthusiastic staff range in age from 15 to 29 and cumulatively have many, many years of camp experience. Our Assistant Counsellors are 15 years and older; Counsellors are 17 years and older; Specialty Staff and Senior Camp Leadership Team are a minimum of 18 years of age and have a minimum 2 years of camp experience.
All of our Counsellors have a strong interest in children and their development, and demonstrate this through their dedicated care of the campers. Some of our staff have more than 10 years of experience, while others are just beginning in the exciting world of day camps for children. All of our staff have camp nicknames and are known only by these names at camp.
All Mooredale Camp Staff:
Hold certification in first aid and CPR;
Complete Mooredale's extensive one week, pre-camp training program.
Are hired and evaluated based on the following 5 key areas: Love working with children, Creativity, Maturity & Responsibility, Optimism and Friendliness.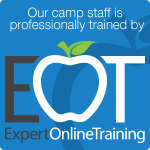 Associations:
Mooredale Day Camp is proud to be accredited by the Ontario Camps Association. The OCA works to preserve, promote and enhance the camp experience for children and adults. Mooredale Day Camp has voluntarily submitted to an independent appraisal completed by camp experts and has met up to 300 health, safety and quality program standards, from staff qualifications and training to emergency management. OCA Accreditation is a parent's best evidence of a camp's commitment to health and safety.